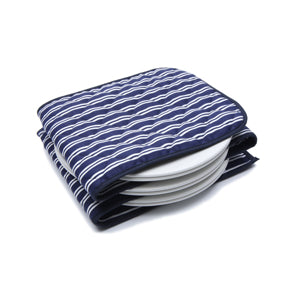 The safe and economical way to heat up to 6 plates in around 20 minutes.
Simply stack up to 4 plates in each fabric fold and switch on. The flexible heating element heats the centre of the plate leaving the edges safe enough to handle.
The thermostat keeps the plates at the ideal temperature and avoids damaging or crazing your valuable dinner service.
Available in a range of designs made with durable quilted cotton drill fabrics.
Safe - Avoid damaged plates and burnt fingers!
Convenient - Frees oven space!
Economical - Same power as a light bulb!
Features
Heats up to 6 plates
Takes plates up to 30 cm size
Thermostatically controlled
Removable machine washable cover
Specifications
Weight: 420 g
Dimensions: 29 x 27 x 10 cm (LxWxH)
Wattage: 65 W
United Kingdom: 3-pin square Plug - 230 V
Europe: Moulded 2-pin Euro Plug - 230 V
United States and Canada: 2-pin flat Plug - 110 V
Australia and New Zealand: 2-pin V-shape Plug - 230 V
Please choose the correct plug for your region.
The Electric Plate Warmer is manufactured in the UK by Hot Ideas and complies with all UK and EU standards.